Description
What to Expect In Your Garden
They don't say "busy as a bee" for nothing!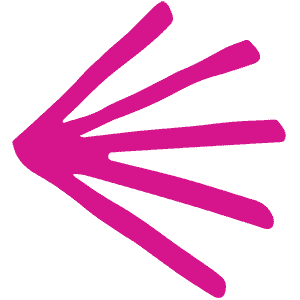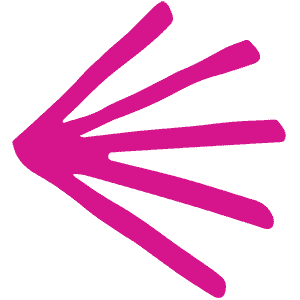 3
Your plants get pollinated
1
Hatching + Mating
Your cocoons arrive sound asleep in leafcutter bee boxes. This stage of their life cycle is called Dormancy and it takes approximately 50 days. The warmer the weather, the faster your bees will appear. Leafcutters hatch out of their cocoons, right inside the cocoon box in the bee home, As soon as they hatch, they mate. This only takes a few seconds, then they get to work on your flowers and plants.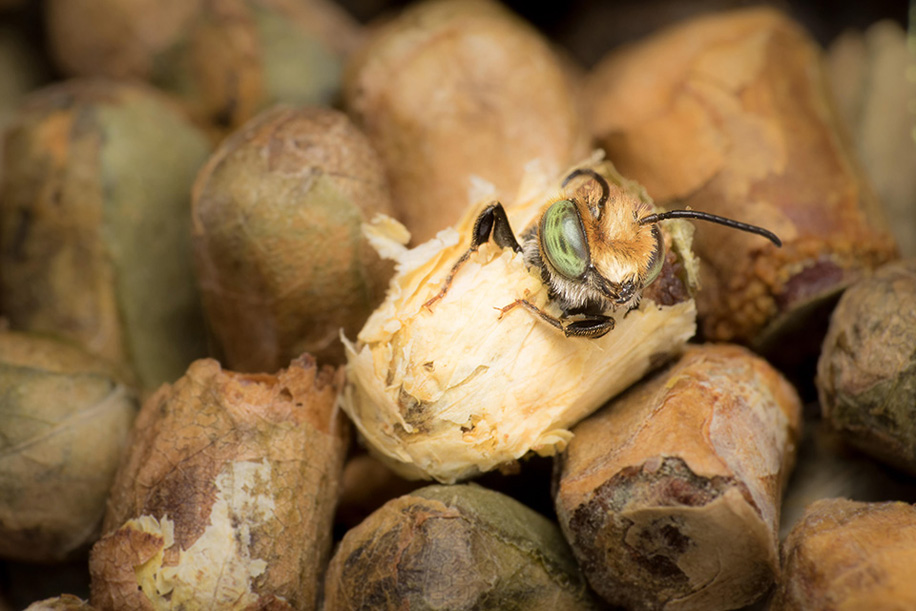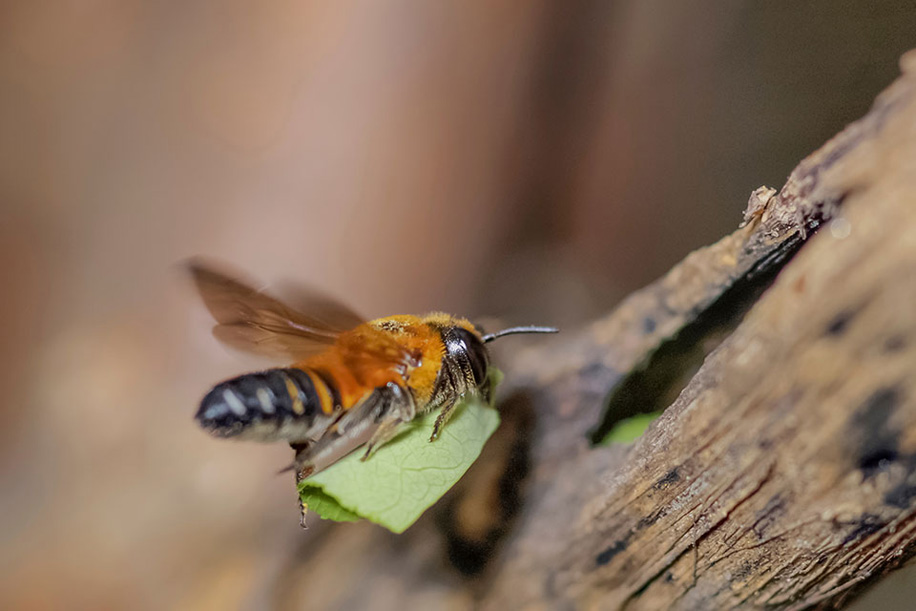 2
Off to Work
The female is on a mission to prepare for her babies! Her life's work is to build cocoons for the next generation. She cuts leaves into half-moon shapes with her mouth and carrying them home under her belly. She lines each nesting tube with them, pasting the leaves together with her saliva. Then she lays an egg inside, packs pollen and nectar around it, and caps it to make sure the egg is protected, as a mama does. All this right in your yard, don't miss out on seeing it first hand!
3
P-O-L-L-I-N-A-T-I-O-N
Finally, Mama starts gathering food for her eggs. This is where the super pollination happens! She is on the hunt for food to take back to her cocoons. Her little belly sprays pollen to every flower and plant she gets near. Can you believe it takes her up to 15 trips to make one complete cocoon? With all that flying around she's got plenty of time to help make sure that your plants and flowers flourish!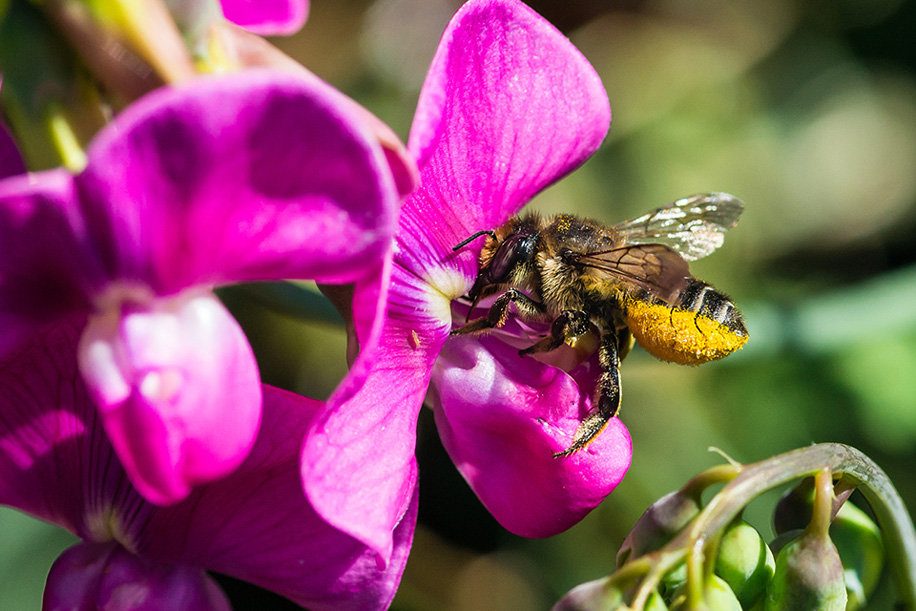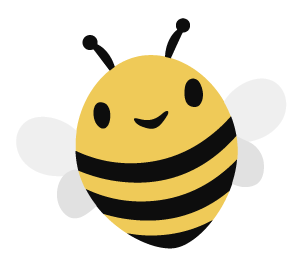 Some Fun Facts About Leaf Cutter Bees
Bees drop things too! Half-moon leaves on the ground show you where a "whoops" took place!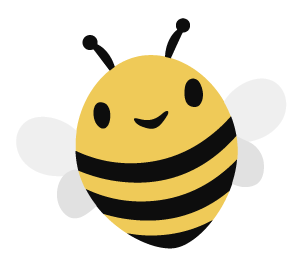 Bee babies inbound! Capped-off nesting tubes signal the completion of a new cocoon.
Living the good life! Catch the bees hanging out on their front porch. Go and say hello!
All o​ur bees for sale are leafcutter bees (megachile rotundata).
Unlike so many other types of widely known bees for sale, leafcutters are:
FRIENDLY BEES
We call them Kind Bees because they are non-aggressive! They are solitary, so there is no need to defend a colony. They keep to themselves, focusing on their work: preparing to lay eggs and spreading pollen. You can visit their little bee hotel without worry. If you squeeze one or handle it roughly, it will let you know. Be kind to them and they will be kind to you!
Leaf cutters are the best pollinator! They are safe, easy, and particularly great at pollinating because they have dry fuzzy bellies. The pollen rubs off their fuzzy bellies onto the flower easily, not sticky bellies like honey bees. Honey bees have sticky bellies and keep more of the pollen to themselves (sorry, honey bees!). This is the main reason we use leaf cutter bees in our pollinator boxes. Our leafcutters are faster than honey bees too, so they can get around to more plants and flowers every day.
LIFE EXPECTANCY
The male and the female have very different life spans.
FEMALE: She is the one that does all the work, then after her life's work of creating the perfect environment for her cocoons – which takes about 2 months – she passes on.
MALE: He buzzes about in your yard looking for food until he parts ways with us about 10 days after mating.
WELCOME TO YOUR NEW GENERATION! This next-generation picks up right back at… you guessed it, dormancy. Your bee family will continue to regenerate, with each new generation hatching about 70% of the last generation.
blank
Your content goes here. Edit or remove this text inline or in the module Content settings. You can also style every aspect of this content in the module Design settings and even apply custom CSS to this text in the module Advanced settings.
Why are there only 20 grams of Bees?
We have chosen this amount so you will get to enjoy the beauty of creation and not have to worry about having too many bees around.
Why is there a Window on the Cocoon Box?
So you can watch them hatch if you'd like! We offer two options for how you want to handle hatching- indoors or outdoors.
How can the bees breathe in the cocoon box?
The window is made of breathable, recyclable material. Once the bees start to emerge and mate, we recommend that you take them outside and move them into their new home.